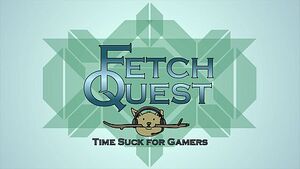 FetchQuest is an animated comedy series about video games. It was created and executive produced by Jordan Allen-Dutton. Other executive producers include Sam Riegel, Felicia Day, and Sheri Bryant. The head writer is Jordan Morris. Other writers include Emily Gordon, Matty Smith, Phil Darovic, and Asterios Kokkinos. It is animated by Dcomics and SpastikChuwawa. It premiered on Geek and Sundry on April 3, 2013. The first season concluded on June 12, 2013, after ten episodes.
External links
Edit
Ad blocker interference detected!
Wikia is a free-to-use site that makes money from advertising. We have a modified experience for viewers using ad blockers

Wikia is not accessible if you've made further modifications. Remove the custom ad blocker rule(s) and the page will load as expected.