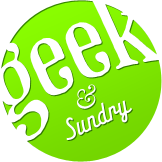 Geek & Sundry
is a website, a YouTube
Multi Channel Network
, and production company started by
Felicia Day
,
Kim Evey
, and
Sheri Bryant
.
When It launched on April 2, 2012, the main Geek & Sundry channel was a part of YouTube's Original Channel Initiative. This was a Google-funded effort to generate original creative content on the YouTube platform. A large volume of content-creators submitted applications, and Geek & Sundry was one of the 100 channels that were chosen.
G&S was also one of the channels that was deemed successful enough to receive a 2nd year of funding. Additional channels were also added to the Geek & Sundry umbrella, expanding the platform into a Multi Channel Network.
After the Original Channel Initiative was discontinued by Google, G&S received offers from several interested partners.
In August 2014, Legendary Entertainment acquired the company, with Day and her partners retaining creative control.
Shows debuting on G&S in 2012
Edit
Shows debuting on G&S in 2013
Edit
Shows debuting on G&S in 2014
Edit
Shows debuting on G&S in 2015
Edit
Shows debuting on G&S in 2016
Edit
Shows debuting on G&S in 2017
Edit
External links
Edit