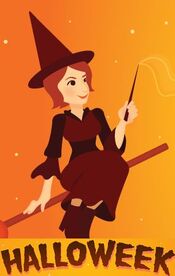 Halloweek was a week-long event, occurring from October 27-31, 2014. Throughout the week, there were various Halloween-themed videos made by several of the people involved with Geek and Sundry, as well as by other YouTubers.
(Note: Due to videos being added to the Halloweek playlist throughout the day and night, and inconsistency in the order of the list, it's sometimes uncertain which day to include non-G&S videos under.)
Wednesday
Edit
External links
Edit
Ad blocker interference detected!
Wikia is a free-to-use site that makes money from advertising. We have a modified experience for viewers using ad blockers

Wikia is not accessible if you've made further modifications. Remove the custom ad blocker rule(s) and the page will load as expected.