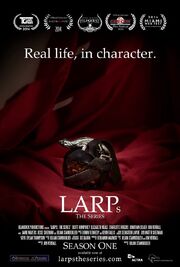 LARPs is a Canadian webseries about a group of friends who play a fantasy "Live Action Role-Playing" game. Its first season originally aired from February 4 to March 28, 2014. The season reran on Geek and Sundry from January 16 to March 27, 2015. Season two was first-run on Geek & Sundry from October 8 to December 17, 2015.
For more information see LARPs (episodes)
LARPs: The Series is a scripted web series that explores how the imagination of play affects reality—and vice versa. In a LARP, or live action role-playing game, players assume the identity of their chosen character and physically perform their actions (as opposed to simply describing them). Five twentysomething friends meet regularly to play in a LARP, and we follow them through their daily lives to see the parallels between the game and the real world. LARPs: The Series presents roleplaying as a normal hobby while acknowledging the sometimes eccentric nature of its players. Thousands of men and women roleplay around the globe. LARPs gives its audience a glimpse into their passion while still examining the realities of life outside the game.
Main cast
Edit
See also LARPs: Characters
External links
Edit