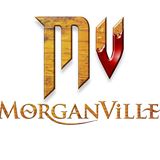 Morganville is an urban fantasy/vampire web series based on a series of young adult novels, The Morganville Vampires, written by Rachel Caine, who also writes the web series. The show is executive produced by Caine, Felicia Day, and Sheri Bryant. The six-episode first season debuted on Geek and Sundry as part of Halloweek, on October 27-31, 2014.
The series focuses on a 16-year-old girl named Claire Danvers who has recently moved to Morganville, Texas, to begin attending Texas Prairie University, as an early admission student. She quickly becomes the target of a clique of mean girls, which leads her to move into The Glass House, with fellow residents Michael Glass, Shane Collins, and Eve Rosser. Soon thereafter, she learns that Morganville has a large vampire population, one of whom, Brandon, works as a protector for Monica, the leader of the mean girls. And it seems they have a grudge against the residents of Glass House. Meanwhile, there are others who have their own agendas, including the town's mysterious "Founder," Amelie, and a vampire named Oliver, who is the proprietor of a local coffee shop called Common Grounds.
Main cast
Edit
Episode list
Edit
External links
Edit
Ad blocker interference detected!
Wikia is a free-to-use site that makes money from advertising. We have a modified experience for viewers using ad blockers

Wikia is not accessible if you've made further modifications. Remove the custom ad blocker rule(s) and the page will load as expected.