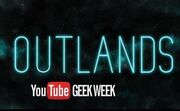 Outlands is an animated science fiction comedy series, created by Adam de la Peña. Executive producers include de la Peña, Sheri Bryant, and Felicia Day. It premiered on Geek and Sundry on August 6, 2013, and concluded on September 24, 2013, after seven episodes and a music video. Sometime thereafter, the episodes disappeared from YouTube without explanation.
The show follows the wacky adventures of the crew of the Titanic II-THX 2001, as they set out to eradicate all hostile life in the universe, to make way for new Walmarts. Unfortunately, their commander gets killed early on, and then reanimated without a brain. In the absence of any real leadership, the basically incompetent crew fail to accomplish much of anything useful.
Main cast
Edit
Episode list
Edit
External links
Edit
Ad blocker interference detected!
Wikia is a free-to-use site that makes money from advertising. We have a modified experience for viewers using ad blockers

Wikia is not accessible if you've made further modifications. Remove the custom ad blocker rule(s) and the page will load as expected.