The 8-Bit Haunted Dance Party is a bonus video released on October 28, 2014, as a part of Halloweek. The video is a dialog-free costumed dance party starring Felicia Day, Tor Campbell, Amy Okuda, Kinuko Demers, Valerie Fruge, Regina Jenkins, J. Omer, Caroline Pho, Justin Porter, Vanessa Sorensen, Daniel Tran, Rodger Washington, and Candis Yamamoto, and featuring D-Trix and Megan Batoon. It was directed by Ted Chung, with choreography by Tor Campbell and Preachin' Soul. Music is by Decktonic and radionarcotix. It was executive produced by Felicia Day and Sheri Bryant.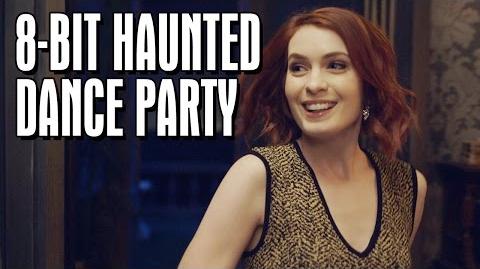 Ad blocker interference detected!
Wikia is a free-to-use site that makes money from advertising. We have a modified experience for viewers using ad blockers

Wikia is not accessible if you've made further modifications. Remove the custom ad blocker rule(s) and the page will load as expected.